Our journey to launch
How did two brothers with no experience in the drinks industry end up creating their own brand? That's the question we're trying to answer in this piece. As with any business, there were highs and lows to getting to launch. As two novices launching amidst covid, we knew it was going to be interesting but we were determined to give it a crack.
Where it all began: New Zealand
After completing my degree in 2018, I opted to defer my grad scheme in London and took a gap year to travel (how original). The highlight of this trip was undoubtedly the three months I spent in New Zealand. In a quaint, little mining town in the South Island I stumbled across a new type of drink. The drink was of course alcoholic sparkling water. The town was of course Arrowtown. Having spent four years at uni drinking cheap beer and sugary mixers, I'd been on the lookout for something different. This was a game changer.
Upon my return to the UK in 2019, James and I begun to discuss the idea and whether it was something that could work in the UK. Only at this point did we realise that alcoholic sparkling water was called a 'hard seltzer' and was already a billion dollar industry in the US.
We then spent a month travelling Eastern Europe together (along with a good chap called Isaac). The majority of this trip was spent bouncing ideas off each other and trying to formulate some sort of plan. It was soon decided that on our return we would commit and get the ball rolling. I formally pulled out of my grad scheme, much to the dismay of our parents.
Getting started
One of the most blatant issues when we came back was that we needed some money. Our student loans could only stretch so far. So, in true entrepreneurial spirit I dusted off my hard hat and steel toe boots and got to work on a building site. I ended up working on site right through to April 2020, whilst working on Arrowtown in the evenings. Meanwhile, James was busy down in Exeter balancing finishing his degree and business work, all whilst carrying out what we'll call "thorough market research" of the drinks sector…
With no experience in either starting a business or the drinks category, we had the small matter of working out where on earth to start. It was very much a case of piecing things together slowly and gradually making sense of this unknown world we were entering. This inevitably involved a lot of googling and research, as well as massive help from others in the sector.
One so called expert of the industry, even told Rob on the phone that he was here to 'shatter his dreams' and that what we were planning wasn't possible. Just what you want to hear at the start of the road.
Creating the recipe
Things progressed well and in December 2019 it was time to go about creating the liquid itself.  For this we went to a recipe development company, who are experts in beverage development (unlike yours truly). Essentially we went to them with a brief of what we were looking for and spent the day creating our recipes. This consisted of a lot of taste testing, playing around with different flavourings, carbonation levels and alcohol strengths.
Looking back, this was a rather funny moment in our journey to launch. I don't think we have ever felt more out of our depth. Our lack of knowledge and preparation was genuinely laughable and made us feel like complete amateurs. But ultimately, that's exactly what we are. However, thanks to their expert guidance we had created our two first recipes: Red berries and Lime & Elderflower.
Branding
The next step was to begin the branding process for the cans. At this point we had named ourselves 'Mammoth', due to our partnership with wildlife charities. We had planned on bringing the Mammoth back. It turns out this wasn't to be, as we'll explain later.
We always wanted to make our cans look bold and unique. I think it's fair to say we achieved that. It's amusing to see some of our branding notes and how the branding evolved over time. Below you can see how the packaging iterated to get to our final designs. A massive thanks goes to our designer, Ant, for the incredible job he has done.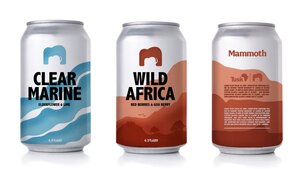 Production
One of the most difficult tasks we had was finding a production partner to make the drinks for us. Conversations begun with many companies from January onwards and we were hopeful of launching 'Mammoth' in time for summer. At this point many hard seltzer brands were beginning to emerge, including a lot of the big guns.
Up until this point it had been fairly smooth sailing, but as covid struck we found ourselves facing setbacks and issues all summer. Production companies were either at full capacity or were not willing to take on new clients. We then faced legal issues. One day away from having our Mammoth trademark published, we received a letter from a large Russian Vodka company threatening to oppose our trademark.
In order to avoid the time and costs of a legal fight, we decided to ditch the name Mammoth. Fortunately, the production delays meant that we weren't sat with thousands of Mammoth branded cans, so every cloud… We spent the next couple of weeks agonisingly brainstorming a new name, before finally settling on Arrowtown. We felt this was a nod of the cap to where the journey started. Arrowtown also happens to be home to some of the most amazing scenery, so it felt fitting with our mission.
With the name sorted and the rebrand complete, we then encountered can shortages, cardboard shortages, even ingredients going missing from production sites. We certainly learnt to be patient and kept the faith. We finally had our first batch made in November, ready for our December launch.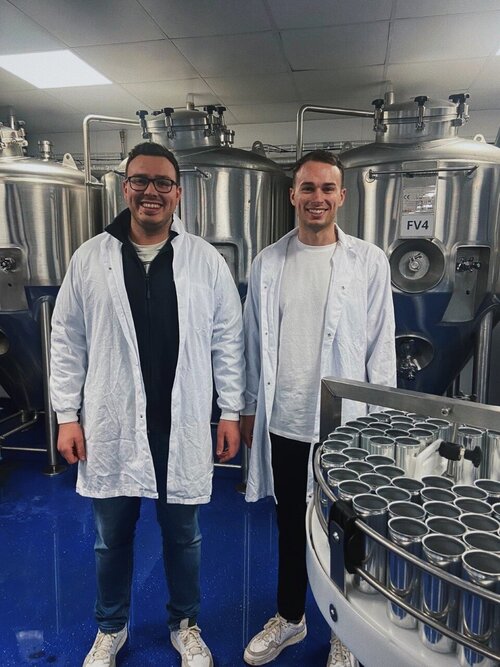 To everyone that helped us get this far and encouraged us along the way, thanks for all your support.
Cheers for reading.