How healthy are your drinks?
If you're anything like the rest of the UK population, chances are you've become more concerned about your health and nutrition over the last year or so. With so many of us obsessively tracking calories, steps and sleep, there's an app or watch that can measure pretty much anything you want these days. Obviously this is great, albeit seeing my parents do lengths of our driveway to get in another few hundred steps has made me question some of the sanity behind this obsession. Regardless, since we launched Arrowtown we've realised how oblivious we were to the actual contents of some of our go-to drinks. This was a rude awakening for us and after four years of drinking at university, probably came a little too late. So, in this blog we hope to shed some light on the nutritional information of some of these drinks. We all know some drinks are awful for us (I won't mention any names here), but the nutritional info of some of your favourite drinks may surprise you.
Before we get into this, let's not pretend that some of the "healthy" drinks are good for you. Ultimately, they're still alcohol. We liken the healthier alcoholic drinks here to dark chocolate: whilst they're not good for you, they're definitely better for you than alternatives. There's a big difference. Anyway, we all need a treat at some point, but hopefully at the end of this you'll be a little bit more clued up on what's going into your body.
Sugar: Arguably the biggest factor that people are conscious of when choosing a drink is sugar and that's rightly so. According to NHS guidelines, adults should have less than 30g of free sugars a day. Free sugars are those added to foods by the manufacturer, plus sugars naturally present in honey, syrups, and fruit juices. For reference, a standard can of coke has 35g of sugar, which is equivalent to 9 sugar cubes.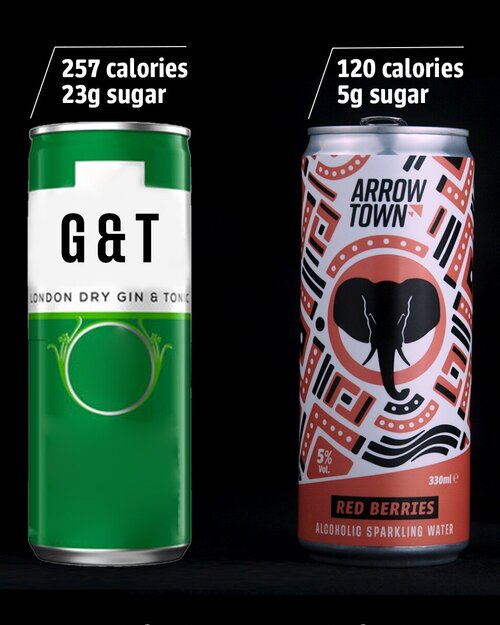 If there any students reading this, you might want to look away now. A blue VK bottle (275ml) has 22g of sugar, as well as sweeteners and caffeine. Bad news for my uni housemates who used to get through at least four on a night out.
Carbs: With the rise of the keto diet, more people have been waving goodbye to pasta and rice in a bid to cut carbs. However, should you also be getting rid of some of your favourite drinks?
Here you can see how heavy on carbs some of these drinks are. Again, a G&T is surprisingly high – mainly due to the level of sugar contained. If you're partial to a G&T, your best move might be to switch to a light tonic or give a hard seltzer a go for something that's still light and sparkling.
Calories: Through Myfitnesspal, it's easier than ever for anyone to count macro and micronutrients. However, for many people calories still is and always will be king. So, how exactly do some of the most common drinks stack up in the calorie department?
Once again G&Ts lead the way with 257 calories per 330ml. A glass of red wine tends to be around 150 calories, so when compared at the 330ml mark is roughly 250 calories. Meanwhile, a 330ml bottle of cider is 167 calories.
A big part of our reasoning for launching Arrowtown was that we were sick of trying to find healthier alcoholic options, without having to compromise on taste. This is where the slogan "rethink your drink" came from. I spent years drinking vodka coke and cheap ciders as a student, so when I first tried alcoholic sparkling water I couldn't believe how few calories and sugar it contained in comparison. With people increasingly trying to live active and balanced lifestyles, having an understanding of what exactly you're consuming in both your drinks and food is so important. Hopefully this article has given you the power to make more informed choices the next time you reach for a drink.